Fun Things to Do in Sayulita
Our 4 days in paradise started in May of 2013. We had met the month before and decided it was a good idea to take our first adventure together to Sayulita, Mexico. Here is how we spent our 4 days in paradise.
Day 1
Upon arriving in the early afternoon, we went straight to the beach. We spent the whole day paddle boarding, eating fresh fruit sold by beach vendors, drinking fresh coconuts and having fun in the sun! A perfect way to start to our first adventure together and a perfect way to spend our 1st day in paradise aka Sayulita, Mexico.
After a long day at the beach, we headed over to Don Pedro's Restaurant & Bar to get some shade. This place is set right on the beach with its grass roof and open air bar, making it the perfect spot to stop in for that midday snack and margaritas.
After getting a bite and drink, we decided to head back to our house to relax for the rest of the evening. We opted to stay in an Airbnb which we highly recommend doing. Our Airbnb was set up in the hills, just a short 5 minute walk to the main part of town. This really gave us a more local feel for our 4 days in paradise.
Day 2
On our 2nd day in paradise, we decided to spend time at the beach again. But this time we were going to get surfing lessons!! We got a recommendation for a great surfing company, WildMex, from some friends of ours who live in Sayulita, Mexico. WildMex was great and we highly recommend them. Not only do they offer surfing lessons, they also offer Mountain Biking, Snorkeling, Hiking and Horseback Riding tours. Go check them out for all your adventurous needs.
Our blue crush moment was successful! We all caught waves and had a great time surfing in this amazing paradise.
Surfing sure does work up an appetite so we headed over to Burrito Revolution, where you can get hands down the best burrito in town! Unfortunately, we were so hungry and tired from surfing we forgot to take pictures!!
Day 3
For our 3rd day in paradise we decided to go for a hike to a "secret beach" one of our friends told us about.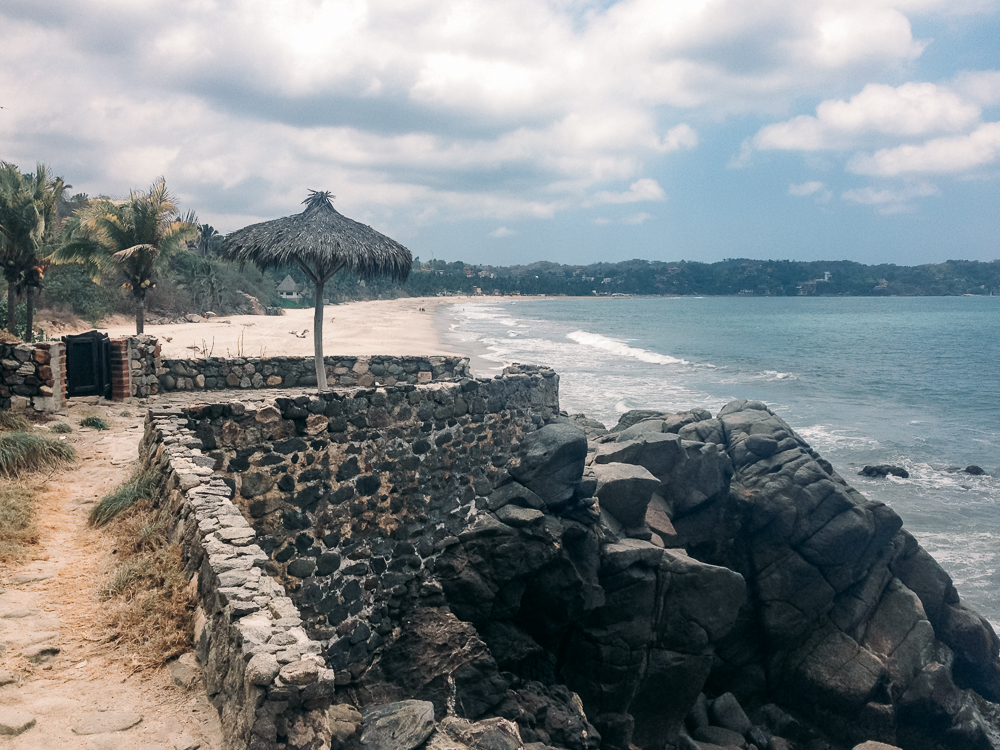 To get to this "secret" beach, you must walk all the way down to the northern end of the main beach in Sayulita. Once you get to the end, you walk up to the left of this old house with a stone fence. From there, follow the dirt path up the hill and along the ridge until you start winding down into the jungle. You will come to a fork in the road and stay to the left. From there you will emerge out onto this cute little beach. Now you may think this is the "secret" beach and while this one is nice to relax at it is not the end destination. Once you have arrived to this little beach, follow it to the most northern end. There you will see a large rock wall. In the middle of this rock wall you will see a passage way that is just large enough to walk through. Go through this hole in the rocks and on the other side you will find the "secret" beach. When we went, we were the only ones there! It was so nice and peaceful just to relax on a beautiful beach in paradise without anyone else around!
Tip: Bring lots of water, a snack and sunscreen. This hike will take you about an hour to get to the beach so you want to be prepared to be out in the sun for a few hours.
Once we got back to town we went to The Real Fish Taco for some delicious tacos and margaritas!
The Real Fish Taco is set right in the middle of town. It is an open air cafe where you can sit on the side of the walkway, people watching and enjoying another day in paradise.
Day 4
Our final day in paradise, we decided to venture out to a resort nearby called Hotel Playa Escondida. It was definitely an adventure to get there! Now to get to Hotel Playa Escondida from Sayulitia it should only take about 20 mins. However, on this day the main road leading there was closed for construction. We were with our friends who lived in Sayulita and after talking to some other locals, they felt confident in taking the backroads. Lets just say... hours later after being lost on jungle roads in the middle of nowhere with no cell service and getting our car stuck on a hill... we made it!!!
Hotel Playa Escondida is a beautiful hotel set on a hill side over looking an absolutely stunning beach and the beautiful pacific ocean. At Hotel Playa Escondida you can eat at their delicious restaurant overlooking the ocean. Swim in their infinity pool or relax on the beach. We highly recommend making a trip there while staying in Sayuita. Although it took a lot of effort to get there, it was a perfect way to spend our last day in paradise. You can also catch a killer sunset view from their beach.
All in all, our 4 days in paradise were magical. It was a wonderful trip filled with lots of laughs, drinks, adventures and relaxation. It brought us very close and upon arriving back in Seattle WA, we became inseparable. You could say this 4 days in paradise was the beginning to a lifelong paradise together and a life of endless adventures!