4 Days in Costa Rica
4 days in Costa Rica
With Greg working full time we needed our next adventure to be somewhere within a 5 hours plane ride of NYC. Costa Rica had been on our list for a very long time and we decided this April would be the perfect time to check it out. Plus it's very easy to get to from NYC. When we started to plan our long weekend to Costa Rica, we knew we wanted to stay in the La Fortuna area. With such limited time in La Fortuna, The Springs Resort and Spa seemed like a good fit. The resort and this area of Costa Rica have so much to offer. You can sit in the heart of the Costa Rican rainforest filled with lots of amazing animals, soak in beautiful hot springs, hike along amazing waterfalls, and gaze at the amazing view of the Arenal Volcano. There are so many fun activities to do. What more could we ask for?!
The Springs Resort and Spa is located in the Northern end of the country and is about a 3 hour drive north of San José, the capitol and largest city in Costa Rica. We arrived to San José in the early afternoon where we rented a car and drove the 3 hours north. Before heading to Costa Rica we did a lot of research about how safe it is to drive there. Mostly everything we read said the same thing.
Do not leave your luggage in your car- This was a bummer for us as we really wanted to make a few stops along the way to our hotel, however, we also wanted to play it safe and it just didn't seem worth it to us.

When parking, back your car in so the trunk is facing a wall or a fence. And do not leave any belongings in the car while you are not present.

If you get a flat tire keep driving to the nearest service station. Petty theft is the most common crime against tourist in Costa Rica and it happens a lot when someone stops to "help" with a flat tire.

Always make sure you have enough gas. Gas stations are not all over the place so make sure you never get into a situation where you are stuck in the middle of the rainforest out of gas!
Overall we felt 100% safe driving there. We never felt like someone was "watching" us, or anyone was out to get us. And the drive from San José to La Fortuna is just stunning!! We highly highly recommend getting your own car. That way you can also venture out from your hotel without being stuck on a tour bus with loads of other people. Although The Springs Resort and Spa offers so much we could have spent our entire time on the property and wouldn't need a car in that case.

We arrived at our hotel about an hour before sunset. It was the perfect time to get checked in, enjoy some room service and hit up some of their amazing hot springs. We loved how many different hot springs The Springs Resort and Spa has to offer and it was a perfect way to relax before bedtime every night.
Between jet lag and the excitement of being in a new location, we woke up bright and early at 5:30am the next day. We were hoping to catch a beautiful sunrise over the volcano, however, as we came to find out over the course of the next few days, mornings seemed to always be misty/foggy and would start to burn off around 10am. By noon everyday, we had a fantastic view of Arenal. Since we did not get the morning sunrise we wanted, we decided to head up to the hot springs and enjoy the property while everyone else was sleeping. This was amazing and something we highly recommended. It was such a peaceful and relaxing way to start the day.
After some time at the hot springs, we made our way back down to our room and enjoyed a delicious breakfast on our private patio. By this time the fog had started to burn off and we had an amazing Arenal view waiting for us.
After our delicious breakfast and a little R&R, we headed up to the pool for an afternoon drink before making our way to Mistico Arenal Hanging Bridges for the rest of the afternoon.

Mistico Arenal Hanging Bridges Park is a short 20min drive from The Springs Resort and Spa. It's an amazing nature walk through the rainforest. It takes about 2 hours and along the way you will cross 6 hanging bridges, and have to opportunity to encounter numerous different kinds of birds, snakes, monkeys, lizards, if you are lucky sloths and leaf cutter ants which were our favorite! We were so focused on its beauty we actually didn't take very many photos here!
Note: You must book your tickets in advance for the time slot you would like to arrive. Morning slots can book up 6months to a year in advance, unless you book with a tour. We ended up booking a 2:30pm slot as noon was the earliest we could get. 2:30pm was a nice time as there was not too many other people there since most come in the morning. We did see a few cool birds and the leaf cutter ants, however we did not see any other animals. We believe this happened for two reason.
The animals like to be out in the morning before the heat of the day. Hence mornings being booked up so far in advance!

We did not have a guide so we could have easily walked by loads of animals without even knowing it. The few birds we did see were from tour groups we would walk past with a guide who was pointing out all the animals. We would stop to see what they were looking at and then move on.
All in all Mistico Arenal Hanging Bridges was so beautiful and we loved our nature walk through the rainforest. We cannot recommend it enough.
After we were done with our nature walk, we made the short drive back to The Springs Resort and Spa. Arriving back in the early evening we opted for an early dinner at Las Ventanas, one of the restaurants located at our resort. After another delicious meal we headed back to our room for an early bedtime.
The next morning was our last day at The Springs Resort and Spa. One of the nice things about The Springs is that you can use all their facilities until 10:30pm even after checking out. After we had packed our bags and checked out of our room we decided to make our way down to Club Rio.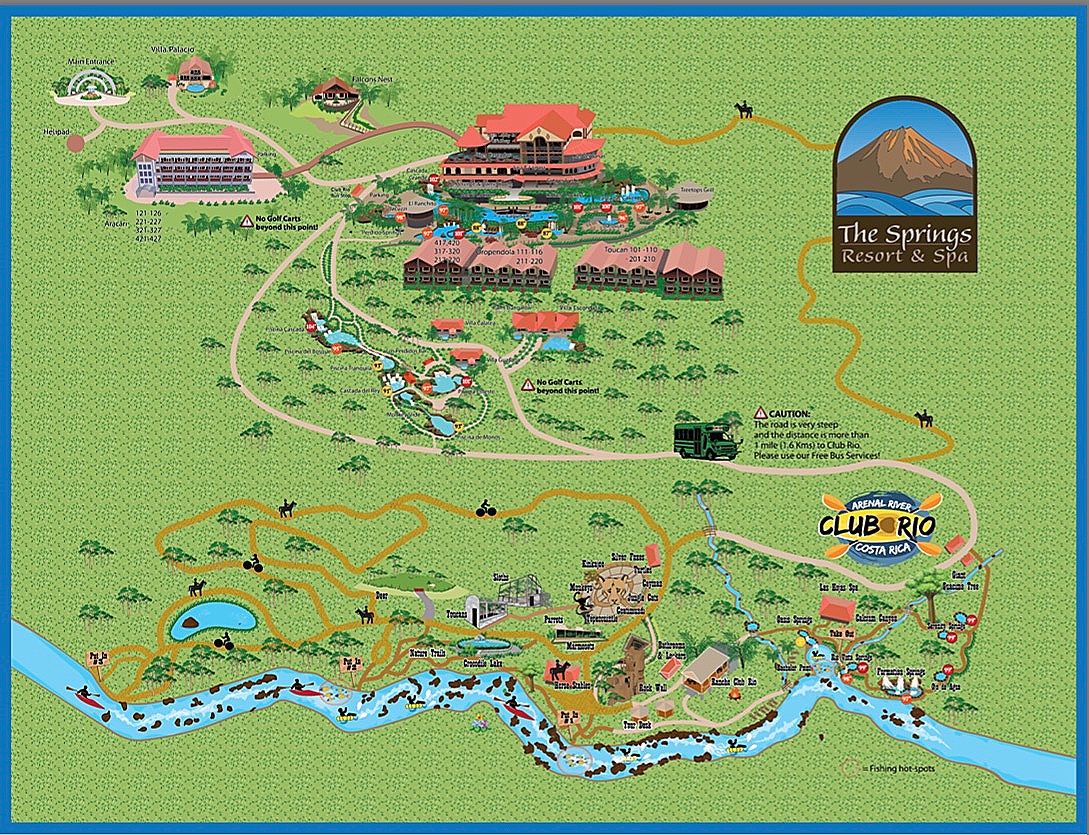 Club Rio is an extension of The Spring Resort and Spa and is located about 1 mile down the hill and a short 5 minute bus ride. You can catch the bus to Club Rio every 15 minutes from just outside the main entrance of the main building at the resort. At Club Rio you can choose from an array of different activities including
-Kayaking
-River Tubing
-Horseback riding
-Guided Nature Tour
-Climbing/Rappel Wall
We opted for horseback riding and river tubing which both were a blast! While down at Club Rio you can also enjoy hot springs, river pools, hiking trails and a nice meal and/or cocktail at Rancho Club Rio Bar & Restaurant.
After a great afternoon at Club Rio, we caught the bus back up to the resort, where we grabbed our luggage, packed up our car and headed off to our next hotel. We had decided to stay at Tabacon for our last night because of their hot springs. If you are a guest at Tabacon you get early access to the hot springs at 8am before they open up to the general public at 10am.
After arriving to Tabacon and checking in we decided to head into the main town of La Fortuna for our last dinner. Per the recommendation of a staff member we ended up at Don Rufino. Don Rufino is a great restaurant with a focus on serving local, organic and sustainable foods. After enjoying some great wine and a delicious local meal we headed back to Tabacon where we enjoyed the hot springs before making our way to bed.
Our last morning we woke up at 6am as we wanted to check out La Fortuna Waterfall right when it opened to try and beat the crowds. We arrived to La Fortuna Waterfall at 6:45am and to our surprise we were not the first car in the parking lot! We decided to wait at the ticket counter so we could be the first to purchase tickets when they opened up at 7am. After purchasing our tickets we ran down the 500 steps to the waterfall. And yes we ran!! We were the first ones down and had about 15min to enjoy this beautiful waterfall all to ourselves before the first groups started to arrive. By the time we left there were only about 4 other groups who had made it down the hill. And the area is quite large so it still didn't feel too crowded. We do recommend going first thing in the morning though because we have heard by 9-10am it can be very packed!! And in fact on our way back up the stairs around 7:45am there were loads of groups making their way down.

We arrived back to our hotel just after 8am and after a quick change we headed over to the hot springs. To access the springs as a hotel guest you can either take the shuttle from the main entrance of the hotel every 5mins or you can make the quick 5min walk over. We arrived to the hot springs at 8:30am and had a glorious 1 1/2hrs soaking in many of the different thermal baths. At 10am the general public started to arrive and by 10:30am it was quickly filling up. That's when we decided to head back to our room to pack up and head out to the airport.
Note: If you would like to see more of our time at Tabacon check out our video on our YouTube channel! And please don't forget to subscribe!!
All in all we had an amazing time in Costa Rica. It definitely holds a special place in our hearts and we will be back one day to explore more of its beauty. Even with just four days you can experience some highlights of the tropical paradise that is Costa Rica.